Originally published in the Centretown Buzz
by Sarah Gelbard
May 10, 2014
A few weekends ago, my boyfriend and I wandered over to Pressed for some live music. We had been contemplating heading down to a show in the Market, but it was the third night in a row going out to shows, and down the block seemed more appealing.
We're fortunate to have such a great selection of smaller neighbourhood venues: Pressed, Raw Sugar, Luneta, Daily Grind, etc. Even though the Market is within walking and biking distance, there's a distinct, though hard to put your finger on, difference between a show at Mavericks and one at Pressed.
So, what does going to see a punk show have to do with being a kid in Centretown? Honestly, the event that was about to transpire left me conflicted about whether I wanted to write about the music scene or childhood in Centretown.
The band took to the stage. In case you haven't seen a show at Pressed, the stage is the elevated platform right in front of the large storefront window. Within moments of the start of the set, behind the band five or six kids appeared, with their noses pressed to the window.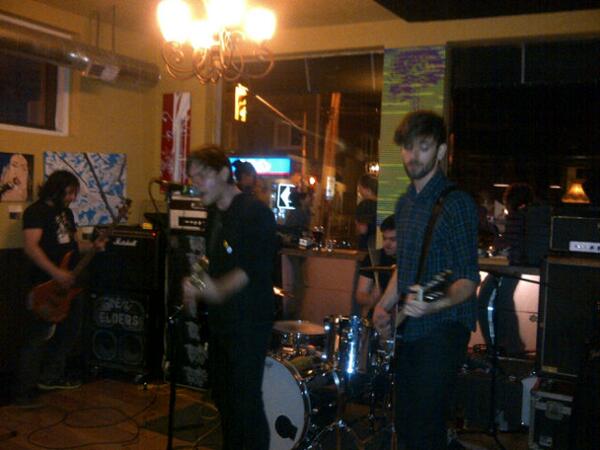 Standing on the window ledge outside, the kids had created their own stage and started to rock out for the audience. What kid doesn't love to play make-believe rockstar? These kids got to do it in front of a real live rock show audience.
The kids loved it. The audience loved it. The band loved it. This impromptu chance encounter in a shared public space, bridging inside and outside, was a textbook example of urban community street life at its finest.
It is experiences like this that make me surprised to hear people talk about Centretown as not being the right place to raise a family. There are certainly issues around the availability and cost of housing, as is true for many other demographics. But the issue I'd like to challenge is the common belief that somehow urban neighbourhoods are not "kid-friendly."
I can't speak from the perspective of someone personally raising children in a core neighbourhood. I'm not even much of a "kid person." But I can speak from the perspective of someone who grew up in a neighbourhood very similar to Centretown: London's Wortley Village—recently named "Canada's Great Neighbourhood" by the Canadian Institute of Planners.
It is smaller than Centretown in scale but the two neighbourhoods share many characteristics: an older neighbourhood within walking distance of the downtown core; quiet and inviting residential streets with a mix of housing; and steps away from lively walkable mainstreets with eclectic small businesses. Of course, the treescape is much better in the Forest City.
There was a pocket park a block from home that I would walk to with my siblings and cousins. Most of the neighbourhood kids walked to school and often home or to a friend's house for lunch. By eight years old, I was walking my dog around the block alone. As a teenager, I could walk downtown to meet up with friends and walk home at the end of the night.
Our home was much smaller than those of my friends who lived further from downtown. I shared a room with my sister until I was 11. We even survived with only one bathroom. But I believe I had so much more space and freedom to play and explore because I lived in a central neighbourhood.
I can also speak from my more recent experience of having several friends with young kids in the area. I have tagged along to playdates in the park, lunches at ESD, ice cream at Pure Gelato, and weekend bike rides. I've discovered a whole new layer to the neighbourhood that easily goes unnoticed if you don't think to look for it.
Dundonald Park is often denounced for being unsafe and not kid-friendly. I probably subscribed to that opinion myself until I was there with a friend and his daughter at 4:00 pm on a Sunday afternoon.
The "purple park," as she calls it, was full of neighbourhood kids playing and laughing. I realized I had probably never been to the park at peak kid hours. It certainly seems kid-friendly when you do. Does it really matter if a park is kid-friendly at 11:00 pm?
Let us think for a moment of kids, toys, and boxes. As adults, we invest time and money developing, marketing, and purchasing the toys that are guaranteed to inspire children to be imaginative and have fun. Kids turn around and play with the box.
We have somehow got stuck in our minds that kids need constant access to large, open greenspaces with specially designed playground equipment. And sure, kids enjoy those, but that is not the extent of kid-friendly space.
As my window ledge stage experience at Pressed demonstrates, kids are pros at appropriating and reimagining objects and public space. They find the places where they want to play, and they are often not, or at least not limited to, the ones we custom-designed for them.
It is important to experience and remember what the world looks like from a child's eyes. If you do, I think you'll notice that the urban world is a stimulating, exciting, creative, educational, community-building space to explore. This is something we need to do more as adults. That interaction and imagination is what can make a space not just kid-friendly, but people-friendly.