Originally published in the Centretown Buzz
by Sarah Gelbard
January 17, 2014
Canada Post's recent announcement about implementing community mailboxes in urban neighbourhoods is a mix between an urbanist's dream and nightmare. The fact that it is so hard to imagine all the ways this will impact on public space and daily routines, and the enormous logistical issues, makes it a tantalizing design challenge.
It's a bit too soon for me to compose my thoughts and ideas on the subject. It does, however, have me thinking more generally about the sometimes fine line between problems and opportunities in our daily neighbourhood interactions.
Negotiating between public space and interests, and our private rights and responsibilities, is a recurring underlying theme.
I have two recent observations which led me through similar dilemmas about community engagement and neighbourly contributions to our public space.
---
Plow vs. neighbour
Over the holidays, back in my hometown of London, I wandered out for a walk and came across a once every (wintery) day sight that now seemed utterly foreign; neighbours out shovelling the sidewalk. It's not something I come across often on Centretown's plowed paths. It brought back childhood memories of wintery walks to school. (Uphill both ways in a metre of snow, of course.)
The sidewalks were a patchwork of the more or less dedicated and abled snow clearing efforts of each of the neighbours along my route. After a big overnight snowfall, the neighbourhood was bustling as everyone scrambled to clear the way before work.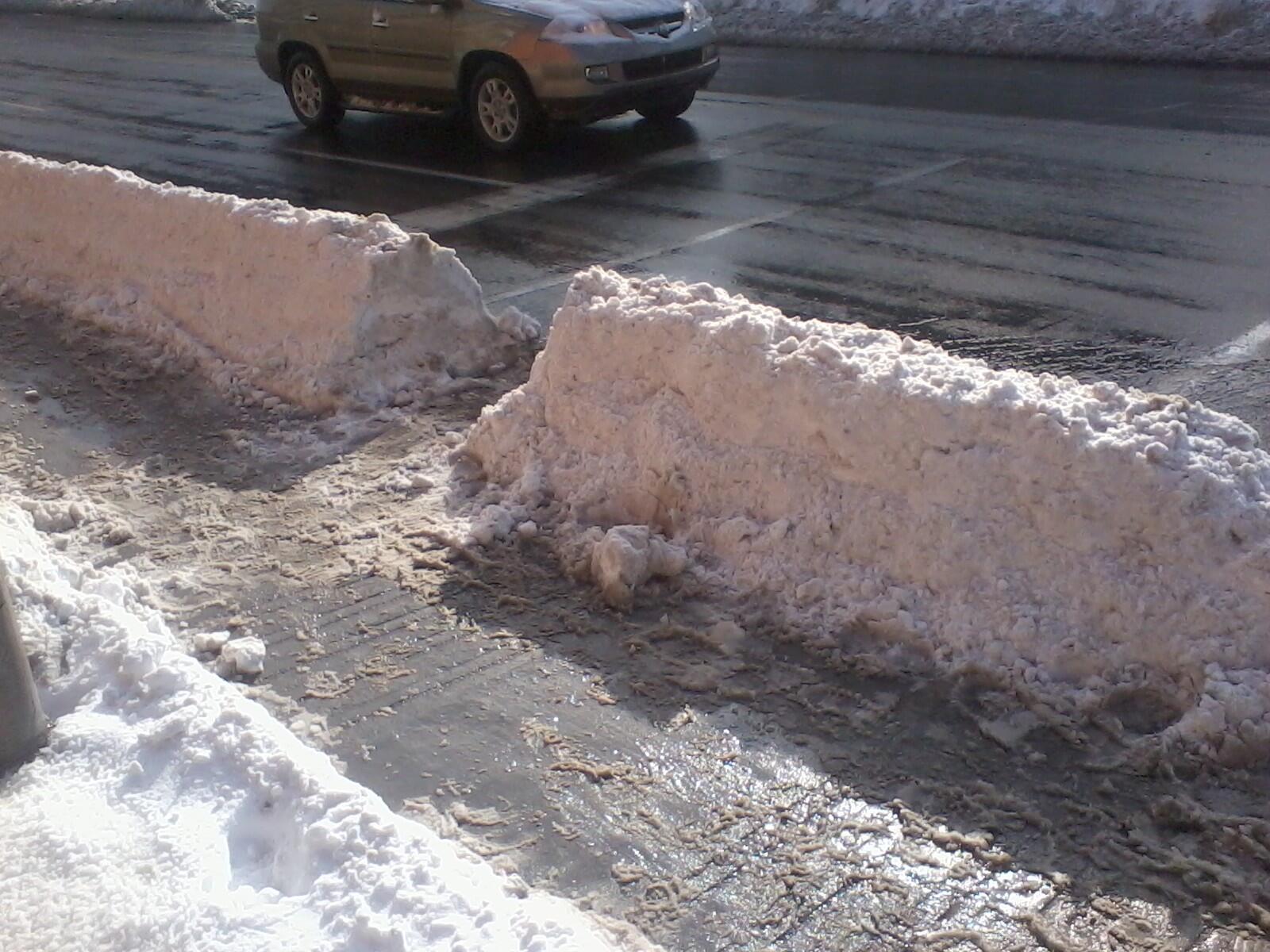 I always paused to say thank you when I passed by one of my neighbours out shovelling. I was thankful. I remember the bliss of stepping onto the patches of meticulously cleared sidewalk after trudging through the stretches yet to be cleared. Stomping my boots clean of packed-on snow.
I was all prepped to use the rush of memories as inspiration for this month's UrbSanity when it occurred to me to do a little fact checking. I was surprised to find out that London is among the Canadian municipalities that does plow sidewalks.
I didn't track down when this policy came into effect so it is possible that it was after I moved away. It is possible that my childhood memories of wintery walks to school are more or less true. Knowing it is no longer mandatory, I find it that much more inspiring that my London neighbours maintain a sense of civic responsibility for this public space that passes through their private property.
I'm not proposing that cities abandon sidewalk plowing. On the contrary, I don't think a city can seriously advocate walkability without winter maintenance as part of the agenda. And no one really wants to spend an extra 20 minutes out in the cold to shovel the public walkway, after 20 minutes shovelling their private driveway and steps.
I mean only to point out that there is a lost moment of communal contribution and appreciation when a public service is provided by the city instead of by your neighbours.
---
Festive gardening
This next dilemma will shock anyone who knows my opinion of Christmas decorations. They make my minimalist modern soul cringe. It is not religious humbuggery. I can't seem to escape the clash with my aesthetics and the inherent dose of admitted design elitism.
I will also often make arguments about energy consumption, waste, and light pollution. I once had a neighbour who strung lights from the tree in front of my bedroom window. It was perma-dawn in my apartment between early November and late March. It did little for my seasonal adjustment disorder.
While I could continue my anti-decoration rant at length, I do recognize a slight inconsistency between my urbanist values and my fight against tinsel and twinkle lights. Decorating your house for the holidays is a neighbourly public gesture, something I otherwise actively advocate.
Not everyone is a minimalist and so I understand the desire to break up the bleakness of the winter landscape and bring a bit of light to our sunlight deprivation.
I've gained a bit of perspective by thinking of it as the equivalent of a summer garden. I have to admit to having a terribly black thumb and my attempts at gardening have had less than aesthetically stunning returns. Yet, I feel a responsibility to tend to the otherwise neglected patch of land.
My neighbour two houses down has a stunningly beautiful garden and inspired me to start gardening. She is always encouraging when she sees me outside tending to the mess. Despite the discrepancy in results, we both share an appreciation of the effort and contribution the other makes to our shared space.
There is the joke that it doesn't matter what the outside of your house looks like. From your living room, you only care what the house across the street looks like. Of course, if everyone thought that way we'd all have pretty terrible views outside our windows.
Decorative efforts don't always succeed at beautifying the neighbourhood or only do so subjectively. But it is hard to criticize the communal conscientiousness that underlies the motivation behind this type of neighbourly gesture.